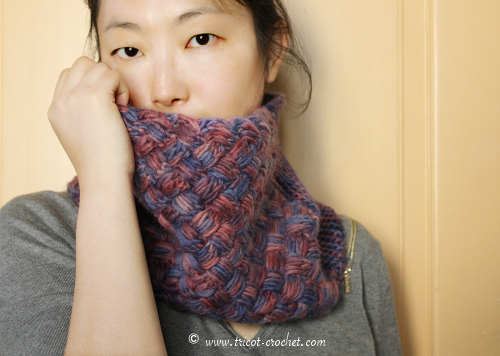 Sunday September 21st, 2014
I just did a super cowl with the yarn that I dyed myself. I'm happy with the result. It is quite thick and will keep me warm. Now I want it cold, cold … 🙂
For this cowl, the stitch is based on the basket stitch, but more large. I call it the big basket stitch. It is a stitch adapted well to the bulky yarn.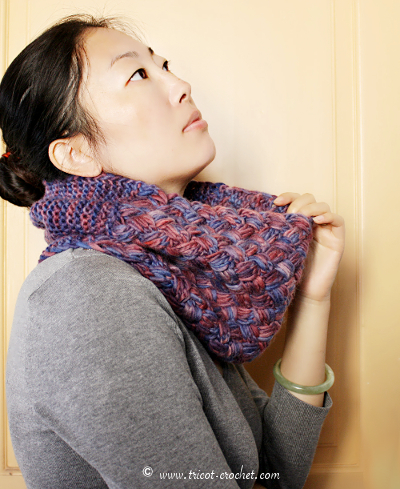 Pattern – Highland Cowl
Yarn : Bulky (my dye)
Needles : 6mm
Yardage : 200m / 218 yds
Gauge : 18 st = 10 cm / 4'' in stockinette stitch
Skills needed : Know how to knit a cable
Sizing tips : To have a smaller or bigger width, it is enough to decrease or to increase stitches per 6.
Final size of this cowl : 72 cm x 27 cm
Abbreviation :
St : stitch(s)
C6L : 6-st cable left
C6R : 6-st cable right
Notes : This cowl is knitted as one flat piece and then sewn into a circle. It contains two parts, the first part with the big point baskets, and the second with the garter stitch. You can double the length to turn two times on the neck.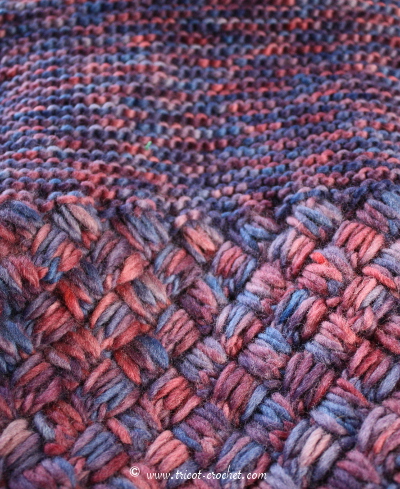 Cast on 53 (6×8+5). You need a number of st multiplied per 6, and then added 5.
Part 1 :
Row 1 : Slip the first st. Purl all st and wrap the yarn twice around the needle instead of once, until there is one st. And purl normally the last st.
Row 2 : Slip the first st. Knit 8 times C6L. Knit 4.
Row 3 : Repeat the row 1.
Row 4 : Slip the first st. Knit 3. Knit 8 times C6R. Knit 1.
Repeat 12 times from row 1 to row 4.
Part 2 :
Row 1 : You have to make a decrease, otherwise your work is going to widen with the garter st. Slip the first st purlwise. *Knit 2 st together, knit 1, knit 2 st together, Knit 2*, repeat **7 times. Knit 2 st together. knit 1.
Knit all rows (front and back) until the same length as the first part.
Bind off. Leave a long tail of thread to sew.
Now it's your turn!